Efficacy and Safety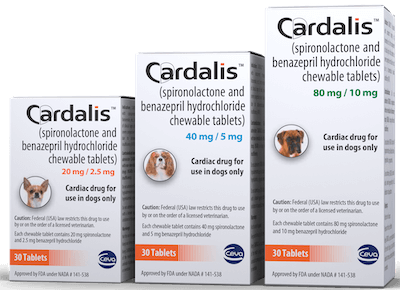 References
Data on file: Cardalis™. Marketing authorization file, CEVA Santé Animale, 2012.

Cardalis™. CVMP assessment report. EMA. August 2012. http://www.ema.europa.eu/docs/en_GB/document_library/EPAR_Public_assessment_report/veterinary/002524/WC500131472.pdf
Cardalis™. EPAR product information. June 2013. http://www.ema.europa.eu/docs/en_GB/document_library/EPAR_-_Product_Information/veterinary/002524/WC500131473.pdf.

Freedom of Information Summary, NADA #141-538 (July 27, 2020), CARDALIS.

Coffman, M Guillot, E Blondel, T, et al. Clinical efficacy of a benazepril and spironolactone combination in dogs with congestive heart failure due to myxomatous mitral valve disease: The BEnazepril Spironolactone STudy (BESST)J Vet Intern Med 2021 1 15
https://doi.org/10.1111/jvim.16155
CARDALIS and the CARDALIS logo trademarks are the property of Ceva Santé Animale S.A.
Important Safety Information
Do not administer in conjunction with non-steroidal anti-inflammatory drugs (NSAIDs) in dogs with renal insufficiency. Do not use in dogs with hypoadrenocorticism (Addison's disease), hyperkalemia or hyponatremia. Do not use in dogs with known hypersensitivity to ACE inhibitors or spironolactone. The safety and effectiveness of concurrent therapy of CARDALIS™ with pimobendane has not been evaluated. The safety of CARDALIS™ has not been evaluated in pregnant, lactating, breeding, or growing dogs. CARDALIS™ administration should begin after pulmonary edema is stabilized. Regular monitoring of renal function and serum potassium levels is recommended. Common side effects from a field study include anorexia, vomiting, lethargy, diarrhea and renal insufficiency.